Performance High founder Michelle Wiens has been actively engaged in health and fitness pursuits for over 20 years. Her competitive career included 8 years of high school and collegiate long-distance swimming followed by 5 years of triathlon specializing in Olympic and half-Ironman distance races. She also completed the Seattle Mountaineer's Basic Course in glacier, rock, and alpine climbing and currently enjoys mountain biking, downhill skiing, and yoga.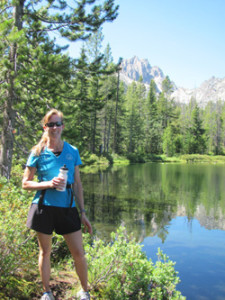 She began her personal training and coaching career as a Volunteer Fitness Trainer for the University YMCA in Seattle, WA. While with the Y, she designed and instructed sports-specific conditioning classes for triathlon, distance running, mountain biking, snow sports, and weight training. Through these classes she coached dozens of first-time marathoners and triathletes across their first finish lines!
Since starting her coaching business in 2001, her portfolio includes:
A professional 24-hour mountain bike racer
A nationally ranked Xterra triathlon racer
A competitive junior road cyclist
Several ultra-endurance runners
Several first-time Ironman athletes
Many adult athletes with a variety of goals
A recent highlight of her coaching career was a 4-1/2 month internship at the Olympic Training Center in San Diego, CA. Working alongside the strength and conditioning coach, she refined and honed her ability to create effective and sport-specific weight programs for a variety of sports including triathlon, marathon, sprint cycling, kayaking, rowing, track and field events, and archery.
Michelle holds a USA Triathlon Level 2 Coaching License and is currently working on attaining Level 3 (the top coaching license offered by USAT). She also has a Master's in Exercise Science & Sport Studies.
Internships & Coaching Experience
Strength and Conditioning Intern. USA Olympic Training Center Chula Vista, CA, 2002.
Joe Friel "UltraFit" Triathlon Camp Coach. St. George, UT 2003
Certifications, Licenses, Affiliations, and Awards
USA Triathlon Level 2 Coach
USA Cycling Expert Coach
National Strength and Conditioning Association Member
Aerobic and Fitness Association of America Mat Science Instructor
YMCA Fitness Testing Specialist; Get Real Weight Management Instructor; Personal Trainer; Principles of Health and Fitness; ResistaBall Instructor; Strength Training Instructor
1995 Program Volunteer of the Year and 1996-1997 Leadership Award for Outstanding Program Innovation, North Seattle Family YMCA
Past Sport Experience
Triathlon: Top five age grouper in short course and half-Ironman triathlons.
Mountaineering: Graduated from Seattle Mountaineers' Basic Mountaineering Course.
Swimming: Competed in long-distance events at high school and collegiate levels.
Other Interests: Mountain Biking, Cycling, Downhill Skiing, Running.