SWIM
Swim Training Workouts
Tuesday/Thursday 5:30-6:30 AM at Axiom Parkcenter
The best swim fitness is built on a solid foundation of endurance training and focused speed work.  Our well-designed Swim Training workouts will help you:
– Improve your fitness and efficiency so you can swim farther and longer with less effort
– Improve your speed with sprint sets that fine-tune your explosive abilities
Join us and watch your swimming go from OK to great!
Technique Swims – BY INVITE ONLY
Sunday 8:00-9:00 AM at Axiom Parkcenter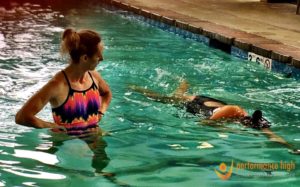 Before speed comes perfect technique. Our technique swims perfect your form BY providing individualized and specific feedback on your stroke mechanics. Through a combination of drill and swim these sessions are invaluable for making you a faster, better swimmer by accessing your "inner fish"!
SKILLS CLINICS
Mountain Bike Beginner Clinics
Mountain biking can be both intimidating and scary.  Our 2hr clinics teach you basic mtn bike skills so you can ride more confidently, safely and have more fun!  Skills covered are:  Basic Bike Set-Up and Equipment, Trail Etiquette, Correct Body Position for Climbing/Descending/Cornering, Shifting and Braking.
Tri Transition Clinics
One of the easiest ways to improve your speed in triathlon is to fine-tune your transitions.  Join us for these 2hr clinics and learn how to access your "free speed"!  We'll cover:  Efficient transition set-up, Wetsuit tips, Bike mounting/dismounting, Leaving shoes on bike, Running with your bike.
Bike Tire Changing Clinics
You can't call yourself a true cyclist until you can change a flat tire!  Our 1hr clinic will introduce you a few tricks of the trade to make your next flat tire experience so much easier, cleaner and less stressful.