Swim Training Workouts
Tuesday/Thursday 5:30-6:30 AM at Axiom Parkcenter
The best swim fitness is built on a solid foundation of endurance training along with focused speed work.  Our well-designed Swim Training workouts will help you:
– Improve your fitness and efficiency so you can swim farther and longer with less effort
– Improve your speed with sprint sets that fine-tune your explosive abilities
Join us and watch your swimming go from OK to great!
Technique Swims – BY INVITE ONLY
Sunday 8:00-9:00 AM at Axiom Parkcenter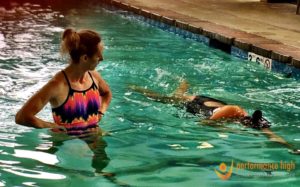 Before speed comes perfect technique.  Our Technique Swims perfect your form in an individualized way by providing specific, personalized feedback on your stroke mechanics.  Through a combination of drill and swim, these sessions are invaluable for accessing your "inner fish" and thereby making you a faster, better swimmer!