Winter Squash Agrodolce
I LOVE winter squash…and not just the standard butternut & acorn!  These days there are so many awesome varieties to choose from – spaghetti, delicata, hubbard, kabocha – all yummy!  The best part is the health benefits these little gems provide.  While being fabulously low calorie, they provide high quantities of fiber, vitamins C and A, antioxidants and minerals!  Here is one of my favorite winter squash side dishes.  Enjoy!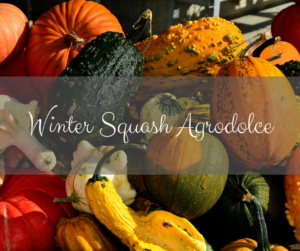 Winter Squash Agrodolce
Servings:  8
1 2lb kabocha squash, peeled, seeds removed, cut into 1-inch wedges
2 delicata or dumpling squashes, seeds removed, cut into 1-inch wedges
2 T olive oil
Salt
Pepper, ground
2 Fresno chiles (or Jalapeno or Serrano), thinly sliced
3/4 c red wine vinegar
1/4 c honey
2 T golden raisins, chopped
1 t crushed red pepper flakes
Preheat oven to 400 degrees.  Place kabocha & delicata squash on separate large rimmed baking sheets.  Drizzle w/ oil & season w/ salt & pepper.  Roast, tossing occasionally until squashes are golden brown & tender, 30-35 minutes for kabocha & 20-25 minutes for delicata.
Meanwhile, make the agrodolce.  Bring chiles, vinegar, honey, raisins, red pepper flakes & a pinch of salt to a boil in a small saucepan over medium heat.  Reduce heat & simmer until syrupy, 8-10 minutes.
Brush half of warm agrodolce over warm squash.  Transfer to a platter.  Spoon remaining agrodolce over squash & serve.
Cheers,
Coach Michelle